Admission guide
Sequence of application procedure
1. [Applicants] Obtaining application form
2. [Applicants] Submit the application form and the examination documents to international Japanese Institute. (Payment of admission fee)
3. [International Japanese Institute] Application for "Residence qualification recognition certificate" to Tokyo Immigration Bureau (The permission for residence is granted by Immigration Bureau)
4. [International Japanese school] Tokyo Immigration Bureau issues the certificate for resident eligibility.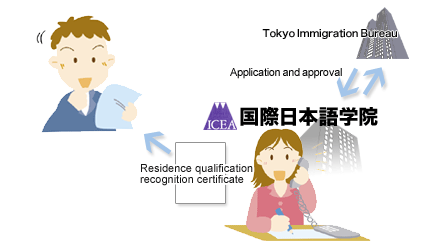 5. [Applicants and guarantor] The passport is obtained from respective concerned country institutions and application for VISA is submitted to respective country's offices.
6. [Applicants and guarantor] Obtain VISA and come to Japan
7. [Applicants and guarantor] Entrance formalities of International Japanese Institute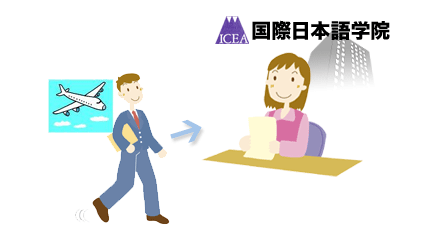 Explanation on Application procedure
Item
Explanation
Application procedure
Admission receiving document is issued after scrutinizing submitted admission forms. Then the application for getting "Residence qualification recognition certificate" is submitted to Ministry of Justice. The "Residence qualification recognition certificate" is sent to institute from Ministry of Justice for students who are considered as eligible students after document verification. It is then handed over to Guarantor or applicant from institute. Amount mentioned below must be paid at this time.
Admission fee (Facility maintenance fee, study material fee, off-campus expenses)
Tuition fee...For each course per year.
Admission Procedure
The admission procedure will be conducted within 1 week after arrival in Japan. Moreover the admission will be cancelled if the procedure is stopped with no reason. (Carry the Application form and Passport at the time of Admission procedure)
Higher Education Mediatio
Mediation will be offered to the students who with to take higher education of students in Japanese national/public/private universities or various specialized vocational schools.
Class Details
Class will be conducted for 4 hours per day or 20 hours per week (Class will not be conducted on Saturday, Sunday, and on national holidays).
Students will attend their respective level class in morning or afternoon sessions.
(Class Time: 9:10 AM - 13:00 PM and 13:10 PM - 17:00 PM)
Health
Opt for National Health Insurance at prefecture/city/town/village ward office where applicant resides, within 2 weeks after the arrival in Japan. This reduces the medical expenses in case of illness or injury.